Fluentify Young Learners is the Fluentify platform dedicated to children (aged 5 and up).

Lessons are 30 minutes long, as the most recent studies from the Society for Research in Child Development and the British Psychological Society show that the best learning phase occurs within 30 minutes of lessons.

In this way, your children will easily remain focused (also thanks to the topics covered), will not run the risk of getting bored, and will be able to give their best in every lesson.

Once the first lesson has been booked, the parent can write to the tutor via chat, providing some information about the child and any learning needs.

It is also possible to participate with the child in the first lesson with the tutor, which will be used to get to know each other and to outline the personalized learning path.

At this link all the information you need to know Young Learners and to subscribe: https://young.fluentify.com/

And below, are the offers available: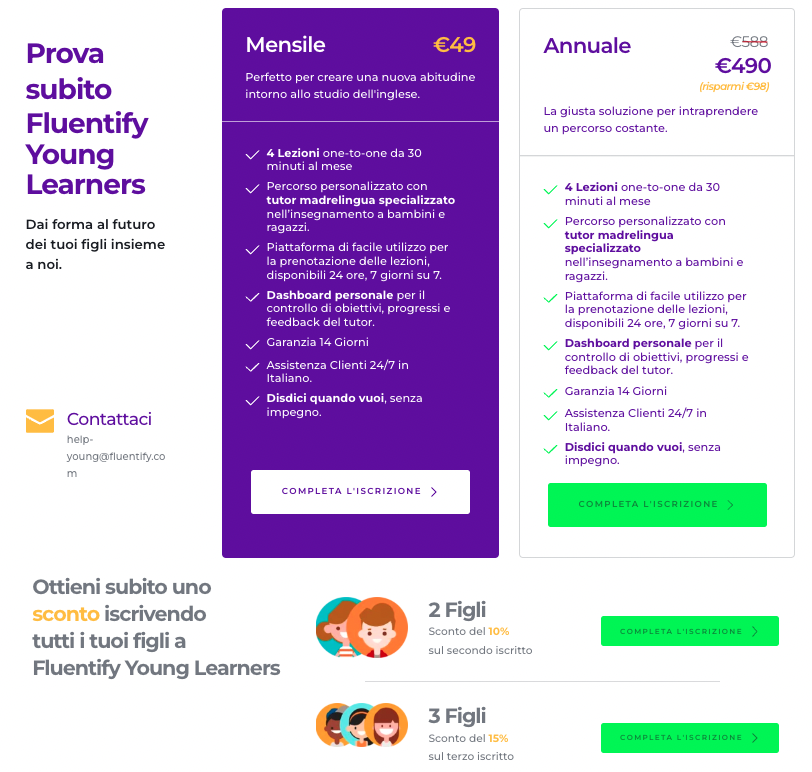 There are two packages:
- 4 lessons 49€ per month
- 8 lessons 97€ per month
Here is the purchase link:
https://young.fluentify.com/it_IT/checkout?p=young-1&c=&r=r
By purchasing the first pack of lessons, you will activate a subscription that will automatically renew every month. The lessons must be completed within the reference month, unused lessons cannot be carried over to the following month and will be lost.
Young Learners tutors continuously evaluate your child's performance and set goals. You will be able to constantly monitor their progress and tutor's feedback will be available after each lesson.
You can cancel the lessons within 6 hours in advance but all sessions must be carried out by the end of each month: we believe that only with consistency your children will obtain concrete results, will have more and more confidence and master the English language.
The subscription can be terminated at any time. If you think, after the first lesson (within 14 days), this is not the right course for your children, we will immediately refund the entire amount.
If your child needs a break, you can temporarily cancel the subscription: just access the platform at the following link
https://young.fluentify.com/
click on
Parent Dashboard, Manage Payment, Cancel Subscription
. You can follow the same steps to reactivate your subscription (you will find the green Resume Subscription button).
In order to receive further support contact: help-young@fluentify.com